Aoyama Ghoso kembali dengan serial terbarunya: Meitantei Conan (Detective Conan). Sebelumnya dia telah dikenal lewat Yaiba. Sekarang, selain Detective Conan dia juga sedang membuat serial tersendiri tentang Kaito Kid -- yang juga muncul di Detective Conan.
Aoyama Ghoso is back with his new series: Meitantei Conan (Detective Conan). Before we have known him as the creator of Yaiba. And now, instead of Detective Conan, he is also working in the series about Kaito Kid -- who is also appears in Detective Conan.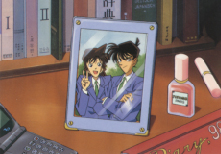 Shinichi Kudo adalah seorang siswa SMU Teitan. Sebagai putra novelis misteri terkenal, dia mempunyai kemampuan analisa yang sangat menakjubkan. Karenanya dia terkenal sebagai detektif muda yang sering membantu tugas polisi.
Shinichi Kudo is a student of Teitan High School. As the son of a famous mystery novelist, he has an amazing ability of analyzing. Therefore he is famous as a young detective who often help the policemen.
Suatu hari dia berurusan dengan para penjahat berjubah hitam. Karena kelalaiannya akhirnya dia tertangkap dan diracuni. Para penjahat mengira Shinichi sudah mati. Beruntunglah Shinichi karena ia tidak apa-apa. Tapi akibatnya tubuhnya mengecil menjadi anak usia 7 tahun. Meskipun demikian kemampuan berpikirnya masih seperti sebelumnya. Akhirnya dia harus hidup sebagai Conan Edogawa.
One day he messed up with some criminals in black suits. Because of his carelessness, he was captured and poisoned. Those villains thought Shinichi died. Luckily, Shinichi was alright. But his body becomes small like a 7 year old kid. However his ability is still the same as before. Since then he has to live as Conan Edogawa.
Demi mengembalikan tubuhnya yang asli, Shinichi harus mengungkap jati diri kawanan penjahat berjubah hitam yang terlibat dalam organisasi kejahatan. Tentu saja ia harus menyembunyikan identitas aslinya -- sebab orang mengira dia sudah mati.
To restore his body back to normal, Shinichi has to reveal the real identities of those men in black, who also involved in an organization of crime. Of course, he has to hide his real identity -- since people thought he died already.
Karena itulah Conan harus membuat Kogoro Mouri menjadi seorang detektif terkenal, agar suatu hari mereka akan diserahi kasus yang berkaitan dengan para penjahat berjubah hitam tersebut.
Therefore, Conan has to make Kogoro Mouri into a famous detective, so that one day they will be given a case that also concern those men in black.
Secara keseluruhan Detective Conan bercerita tentang kemampuan Conan dalam menyelesaikan kasus-kasus rumit yang kadang-kadang tidak masuk di akal.
The whole story of Detective Conan is about Conan's ability in solving hard cases that sometimes sounds illogical to us.